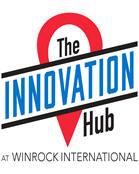 The Innovation Hub uses tools, skills, and expertise to inspire students, innovators, and   entrepreneurs to expand the range of educational and economic opportunities for them, for their communities in our state of Arkansas, and throughout the world.
Vision
We believe that the challenges of the 21st-century economy require us to do everything we can to develop, retain, and attract talent — which has always been our state's greatest asset. That goal demands a collaborative community approach: exposing students to creative possibilities and offering them access to information, resources and instruction. It also demands we look for and engage that talent everywhere – not just in central Little Rock, but all over the Arkansas region. 
The Innovation Hub, a non profit organization dedicated to improving the lives of all Arkansans, inspires innovation and expands opportunities. Since the Hub's opening in 2014, our state-of-the-art facilities have provided tools and training to entrepreneurs, students and other "makers", preparing them to join and grow Arkansas's economic ecosystem. We see an Arkansas where, regardless of demographic identifiers or geographic location, Arkansans are learning new skills, and they are generating and inspiring innovations in cutting-edge technology, business, and creative fields.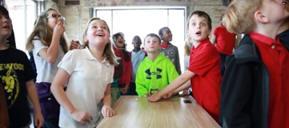 History
The Arkansas Regional Innovation Hub opened in 2014 in Argenta, the heart of downtown North Little Rock. We worked with entrepreneurs, creatives, technologists, and artists to create a collaborative environment filled with 21st century technology. Through grants, private and public funding we established the first makerspace in Arkansas.
At the Innovation Hub in North Little Rock, we have created an open environment full of tools, technology, equipment and support. Through formal and informal programs, we provide makers of all ages, interests and skill levels with opportunities for apprenticeship. We offer field trips, summer camps, after school classes and internships for students to engage in pottery, carpentry, graphic design, laser cutting, 3D printing and more in order to gain valuable skills. (See more about the programs and examples under "Activities.")
Our mobile makerspace, the STEAM Roller, takes that learning on the road, tapping the potential of Arkansas'underserved communities.  Not every school can afford the expense or time needed to visit the Arkansas Regional Innovation Hub and experience our unique STEAM learning opportunities. So in 2018, we partnered with private sector donors to create the STEAM Roller, a mobile makerspace that takes the technology currently available at the Innovation
 Hub — laser cutters, 3D printers, CNC Routers, and more — to underserved/under-resourced communities (rural and urban) and schools across the state.
The STEAM Roller is a 7'x16′ trailer specially outfitted to carry our mobile makercarts. These units allow us to bring a makerspace into Arkansas classrooms and provide hands-on education utilizing a variety of state-of-the-art tools. Our curriculum is designed to explore Science, Technology, Engineering, Arts, and Math (STEAM) subjects using a project-based interdisciplinary model that is pure fun. Sessions include real tools and real-world problem-solving that challenge and inspire youth and teachers alike. Our mobile makerspace and educational lessons expose youth and adults alike to the wonder and power of 21st Century technology through hands-on learning experiences. We inspire participants to become artists, makers, and business entrepreneurs by helping them develop the valuable skills and competencies needed for success in school, college, business, and STEAM careers.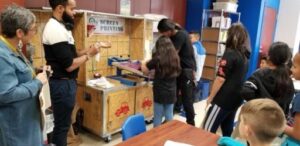 The STEAM Roller also visits community centers, libraries, youth, and elderly facilities—and can provide industrial job training or corporate team-building using digital fabrication tools. In May 2018, the STEAM Roller launched its first mission at Watson Chapel Middle High School, accompanied by PBS Newshour. The resulting national video segment broadened the conversation of mobile makerspaces in Arkansas. In 2018, we reached more than 3,000 adults and students in the Central Arkansas area while piloting the mobile makerspace.
In 2019, we began a soft launch of the program in late January and since inception we have reached nearly 16,088 students and adults—and the calendar is quickly filling up with school visits, out-of-school programs, summer camps, festivals, and other outreach events.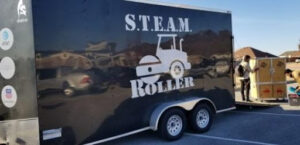 In the field, we have already witnessed the need for STEAM teachers to have a local resource for professional development and assistance with STEAM-related equipment such as 3D printers, laser cutters, and computer equipment.
Activities
The Innovation Hub provides a number of educational and entrepreneurial activities for our community. We offer field trips, after school classes, summer camps, adult classes and workshops, memberships, adult team building activities, co- working space, and opportunities for product development. Our focus is providing access and opportunity to our community as we focus on science, technology, engineering, art, mathematics and entrepreneurship.
We do a lot of things at the Innovation Hub!  Most of what we do can be categorized into three broad areas where we offer our community a variety of ways to Learn and Build:
MAKE
Our makerspace offers everything needed for a variety of disciplines, including cutting-edge equipment and technologies with experienced mentorship. This includes a full wood and metal shop, 3D printers, and advanced computer technology. 
DESIGN
Our arts and design studios are creative and innovative spaces that encompass multiple mediums, including pottery/ceramics, painting, drawing, illustration, graphic design, printmaking, and screen printing. We provide the resources and the professional mentorship that brings visions to life!
CO-WORK
We offer workspace for entrepreneurs who are looking for an inspiring and collaborative environment to launch their new enterprises. We surround them with resources and guidance to avoid mistakes and accelerate your success!
 Summer Camps for Children and Youth
Examples:
          Robotics   Do you want a vast army of mechanical minions to do your bidding? Well, that's too            expensive, but what about one little robot that you can control? We can handle that! Learn the                basics of the coding and wiring that it takes to create artificial intelligence that can move and                react to the world around it.
Video Game Design    Most kids want to spend their summers playing video games, but some kids actually want to spend their summer making video games and we can help! Learn how to create everything about a video game world from the types of plants down to the gravity of your planet. Then, create 3D models of characters, cars, houses, and more, and add these into your game.
3D Print and Laser   A big part of what we do here at The Innovation Hub is make products for people on our 3D printers and laser cutters. Now you can learn how to use these same machines that our production staff use on a daily basis! Learn 3D modeling and sculpting, and learn how to print these models on our 3D printers. Learn to create specialized vector graphics and run them on our laser cutters. Learn how to get a design from in your mind to in your hands!
After-School Workshops for Students
Our after school maker workshops provide experiences to learn using 21st century tools in a creative environment filled with professional staff and mentors. Each of our workshops takes place from 4 p.m. to 6 p.m. Tuesday through Thursday for kids and teens ages 10 to 18.
Examples:
3D Printing

: 3D printing is one of the most rapidly advancing technologies, and is becoming more and more prevalent in industry, manufacturing, and prototyping. In learning about 3D printing, youth will learn model generation in 3 different CAD (computer aided design) programs, how to prepare a file for the 3D printer, and how to maintain and operate a 3D printer.

Electronics: Circuits / Voltage / Soldering

: The after school workshops will show students how to safely work with currents, and use them as the basis for building and wiring their own devices. 
We  start with building a simple circuit to understand the flow of electricity. Next, we move to integrating more complex components to regulate the voltage, and learn to solder in order to create permanent electronics.
Laser Cutting:Vector Art Generation/Laser file prep:

Vector art is used in graphic design to create logos and assets for companies and marketing. It can also be used for controlling a laser cutter to burn images onto woods or acrylics. Students learn to create vector art and prepare it to run on the laser cutter, producing beautiful and even functional masterpieces.

Ceramics

: All Skill levels welcome.  This studio is led by professional ceramics artists.  Come learn basic skills for working with clay and then design and make your own pottery or sculptures on or off the wheel.

Graphic Design

: Learn to use adobe graphic design programs like Photoshop and Illustrator to design postcards, posters, logos, screen printed t-shirts, and online portfolios.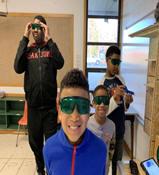 Field Trips for Students
A collaborative environment exposes students to a variety of creative possibilities — from technology to art to entrepreneurial ventures —where they investigate and explore through hands-on activities under the guidance of experienced mentors. All field trips are 2-hours in length. If there 50-100 students, check out our Maker Show Field trip!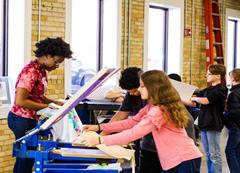 Examples:
3-D Design 3-D Printing

is one of the most rapidly advancing technologies that we have here at The Innovation Hub. Your students will learn how these amazing machines work, and see them in action! They will learn how to use free 3-D modeling software to create models that could be 3-D printed. Students will have a chance to learn how to create their own 3-D model, but they will not leave with it in hand due to time constraints. But have no fear! They will walk away with a 3-D trinket designed by the Hub masters!

Laser Cutting. Laser Vector Art.

Image burning. What is all this talk?! The laser is all about vector art! Vector art is used in graphic design to create logos and assets for companies and marketing. It can also be used for controlling a laser cutter to burn images onto woods or acrylics. Students will learn to create vector art and prepare it to run on the laser cutter, producing beautiful masterpieces.

Arduino:

Arduino microcontrollers are printed circuit boards that are designed to be an incredibly versatile platform. Students will learn how to write code in C++ for motors, sensors, lights and buzzers; all of which could come together on an Arduino to form a fully functioning robot. It has all the content of a coding class with all the hands on engagement of a crafts project.

Engineering:

Engineering is a field that can be intimidating. However, through creative problem solving and hands on activities, your students will learn that creativity is just as important as know-how. From building bridges and towers, to changing the way paper behaves as a material, the goals and concepts of engineering are made approachable.

Flight:

  It's not rocket science. Well… it kind of is. We will discuss the four forces of flight and everything that must be considered when something is flying through the air. Students will take a hands on approach and build a rocket out of basic craft supplies and launch it (or blow it up) with our pneumatic rocket launcher! For an added memorable experience we will also have a drone flight demonstration.

Electricit

y:  Are you curious about how electricity, circuits and electronics work? Do you want your students to have a fun, hands-on learning experience? If so, this is the field trip to choose! Students learn the physics of electricity, simple circuits and the components required to repair, design and build electronics. After learning the basics, they'll enjoy creating a battery using simple components and build a functioning circuit with their hand made batteries! 
Audience/s served
The Innovation Hub has served 71,451 individuals since opening in 2015.
Our Mobile Makerspace began in 2018 and it has reached 16,088 people. This number includes 3,116 students in a classroom settings with visits to 20 (out of 75) counties in Arkansas.
Check out this fun tour and feature story.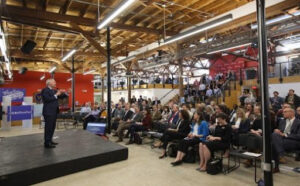 Successful Impact
Successfully created and opened the first Makerspace in Arkansas focused on STEAM and entrepreneurship

Served over 71,000 people since inception

Educated over 16,000 youth in STEAM concepts

Provide summer internships to students 

Host of annual NLR Mini Maker Faire (This event is free to the public and attended largely by NLR residents),  five years in a row.

Host free HUD STEAM Break session during Spring Break to serve youth living in housing project

Creation and deployment of our Mobile Makerspace, which has visited 20 counties within Arkansas and  provided  hands-on STEAM activities and mentoring to over 16,000 individuals.

Work with clientele and community partners to produce over 400 production jobs which include CAD design and modeling 

Provide creative space for local industry partners to grow their business 

Hosted events with the Governor, NLR and LR Mayors, Army Corp of Engineers, State Chamber, Little Rock Tech Park, NLR and LR school districts and several non-profit and for profit entities.
Recommendations for Replication and/or Adaptation
We have learned that in order to create an Innovation Hub you need collaboration, passion and dedication. 

The tools and resources inside of the building are important but the community is the root of success. 

Creating an environment that welcomes artists, entrepreneurs, creatives, students and technologists takes time and effort. The result can be a collaborative place-making life-changing environment. 

We have learned that providing access breaks down barriers and provides much needed support for rural communities. The creation of our Mobile Makerspace, The Innovation Hub on wheels, was an important step for us to take in order to serve our community. We can travel to any corner of the state and provide hands-on STEAM learning opportunities to adults and children. 

We are available for consultation and can provide resources to replicate an Innovation Hub in your community. 
Contact
https://arhub.org
Errin Stanger, Director, estanger@arhub.org
(501) 907-6570