Renew Our Schools, a program of Colorado based nonprofit Resource Central, is a powerful energy conservation competition that gets students and staff in schools across
the nation excited about responsible energy use. Schools use real-time energy gauges to monitor electricity use and see the immediate impact of making energy-saving changes. Renew Our Schools has run 20 competitions since 2008, involving more than 200,000 students, helping schools reduce energy use by up to 25% and save thousands of dollars.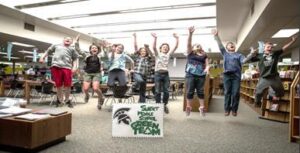 Vision
Renew Our Schools' vision is to provide an effective energy-based learning experience in which students learn that small changes can lead to big impact. Schools save energy and money but it is so much more—students become passionate leaders who unite their schools around a central cause. Our program is important because students use exciting technology to have an impact on a real-world problem—climate change.
History
Resource Central is an innovative nonprofit with the mission to put conservation into action. Our programs have helped more than 700,000 people conserve energy, save water, and reduce waste.  The organization was founded in 1976 by a group of community-minded citizens seeking ways to help reduce our dependence on non-renewable resources. With more than four decades of experience, Resource Central is a highly respected nonprofit working to achieve measurable environmental impact through individual empowerment and education. https://resourcecentral.org
Renew Our Schools: Inspires the next generation of conservationists by helping kids unleash their creative powers and take action to lower their energy use and influence others through energy competitions.   
Renew Our Schools began in 2008 with a focus on schools within the Boulder Valley School District (Colorado) competing to win solar installations, the arrays being installed with a real-time energy monitor called eGauge. Within a few years the competition grew to include both energy savings and occupant behavior changes, which we now call School Energy Actions. The program flourished in the state of Colorado with support from generous funders including the Innovo Foundation and the Colorado Energy Office. Until 2019, only Colorado schools had participated. Now we are proud to say that schools have participated from across the country including from Wisconsin, California, and Texas, and with interest growing nationwide. including from Wisconsin, California, and Texas, and with interest growing nationwide. 
Activities
Outreach to schools/school districts to participate
Many schools or organizations hear about our program by word of mouth or through an organization or foundation willing to sponsor schools.  Once a school decides to commit, we gide them through the steps on the Program Roadmap above. Outreach to schools/school districts to participate
Development of curriculum
We have designed the curriculum to meet the needs of many different learning styles and subjects.   There is something for everyone!  We strive to make the curriculum meaningful and valuable…but also fun!
Working with teachers and mentors
We strive to support our teachers as much as possible by providing a structured step-by-step program so that teachers feel ready to go when the competition begins.  We reach out to local energy professionals to serve as mentors who can show the teachers and students how to use the tools, and begin the energy audit.  
The Portal:  Schools are provided access to our competition portal that provides up-to-date standings for the competition, and is a place where they can access all curriculum, resources and training videos.  
Renew Our Schools Competition
Renew Our Schools is an innovative STEAM-based K-12 energy education program that is highlighted by a 6-week competition in which students use technology, data, and social influence to change behaviors and reduce their school's energy use. They earn points for different activities that encourage the involvement of the entire school community. Once a school decides to participate, they are:
Equipped with an eGauge electricity monitor that provides real-time data of their school's electricity load so students have immediate feedback, reaffirming the connection between their actions and energy outputs.  For example, students can turn off the lights and immediately see a drop in electricity usage on a graph. It is a tremendous learning tool for students and a great aide for school districts to learn how to reduce their energy use. These devices are installed before the competition begins and are used to track energy use during the competition.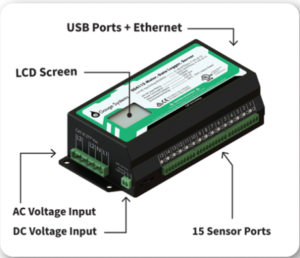 Provided with an energy toolkit for hands-on learning with curriculum and energy-themed activities including light meters, thermometers, kill-o-watts) for students to analyze their school's energy use.
Matched with energy professionals from the community who volunteer as mentors, relieving the burden on teachers and offering a unique real-world learning experience for students.
Given access to STEM-based activities that are age-appropriate to engage students at all grade levels. Elementary students learn about turning off lights and use energy meters to determine how much energy is being used by everyday appliances. Older students develop problem solving skills and investigate energy consumption at a deeper level. High school aged students also benefit from community mentors who expose them to a variety of energy careers.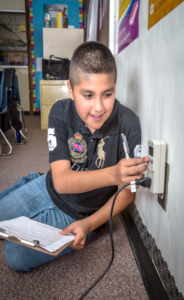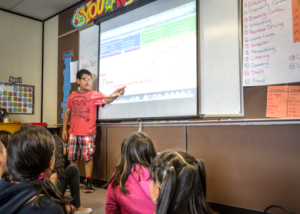 Supported with on-going communication and guidance. the Renew Our School portal provides schools with real-time results including total points, energy savings, and each school's standing among competing schools.  The portal also provides access to all curriculum, resources, and teaching videos. 
During the competition, schools can earn points in 2 ways:  School Measured Savings and School Energy Actions. 
School Measured Savings: Each participating school gets an eGauge energy monitor that measures the total energy use of the building. This real-time data can be pulled up on any tablet, computer or phone and changes according to any effort the students make.  motivating the students to make more changes.   Each day they see how much energy their building is using compared to the baseline motivating them to reduce even more.
School Energy Actions:  A collection of 20 activities aligned around the steps of an Energy Action Plan: Plan, Promote, Educate, Motivate, and Evaluate. 
Examples of how schools can earn points:
making energy-themed posters to raise awareness 

touring energy facilities in person or virtually

conducting a school energy audit to find ways to save energy              

doing energy-themed lessons

students teaching other students about energy 

making daily energy-themed announcements or videos.

implementing new energy policies for your school.
Check out this video made by Royal Oaks Elementary School, Wisconsin to see students in action.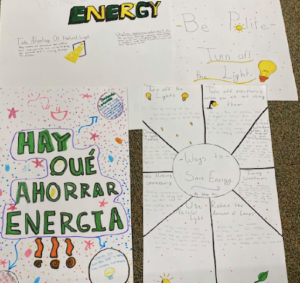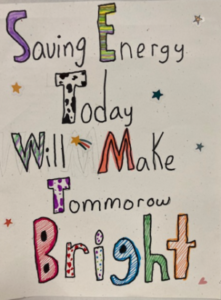 Connections with energy experts: Schools have brought experts into the schools to speak to the students and show students what great opportunities there are in the energy profession.  Professionals such as green architects, energy consultants, utility professionals, experts in wind, energy and water, electricians, solar installers and energy engineers visit with students.  Students also explore energy facilities virtually.  Students have visited biodigesters, wind farms, solar homes, solar farms, coal plants, and hydrothermal plants.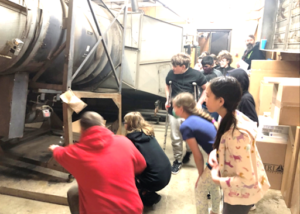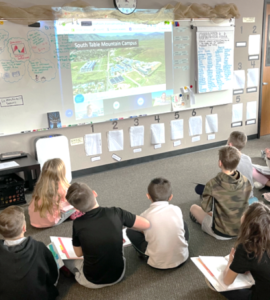 Competition award: At the end of the competition, points from the two categories are added up and the schools with the most points win $2,500.  If a school wins an award, they can use the funds to make changes to their building, making it more energy efficient. Past winners have chosen LED lights, solar tubes for daylighting, occupancy sensors, window tinting, solar shades and more!  Prize pools vary depending on the primary sponsor of the competition.       
Audiences
Schools/school districts: Any K-12 school is eligible—private, public charter or independent.  We try to prioritize schools that are Title 1, underserved, or have high needs.  
Students:  We put schools into groups for our competitions based on size or grade levels.  Renew Our Schools is committed to ensuring diversity in the demographics of our participating schools and districts.
Teachers:  The program requires one teacher from each school to be the champion but we encourage as many teachers as possible to join the efforts. The more buy-in a school has, the better the school does in the overall competition.  The lessons are designed so that teachers of all grades and subjects can participate. 
Local experts:  Local experts can volunteer to support schools by helping them learn how to use the energy-savings tools such as kill-o-watts, light meters, and infrared thermometers, show them how to begin the school audit, or even just provide moral support.  If a local professional understands building science, they can use that expertise to help students understand building programming.  
It takes a team to make Renew Our Schools be the best experience it can be.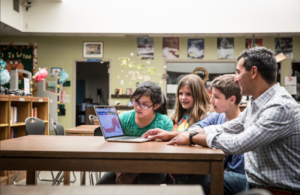 Successful Impact
Since 2011, our program has reached nearly 200,000 students from 200 schools. Schools have reduced energy use by up to 25% allowing districts to save up to $10,000 in one month of competition. Due to the success of the program, we started receiving inquiries from schools from all over the country, so in 2019, after many years of successful partnerships with Colorado schools, we made the exciting decision to expand nationwide. We have now worked with schools in five states and are growing rapidly.  
We have encouraged the development or revitalization of over 110 Environmental Clubs that develop mission statements, measurable yearly goals and Energy Action Plans.  We have also become known as a catalyst that helps energy managers ignite programs of their own in the district.  Our reputation for offering this unique, impactful, one-of-a-kind program has allowed us to develop a waitlist of schools and districts hoping to participate. 
 The results are also shown through the stories from individual student groups who are inspired by the program. There are countless stories of student success but here are a few of the highlights:
We have had students terrified to speak in front of others become passionate presenters and leaders of their environmental clubs who speak to administration and school boards about possible changes to district and school energy policies. 

A student group from Summit Middle School, CO, was invited to speak on a state-based environmental roundtable about climate change.  A foundation that was present at the roundtable was so impressed with these students that they contacted us, leading to one of our longest partnerships with a foundation in the history of the program.  

In the Spring 2022 competition, students at Century Middle School, CO, discovered a programming issue in their school's energy use and alerted their energy manager about their findings.  Their discovery led the energy manager to instate changes in all 50 district buildings, saving their district thousands per school per year in energy costs. 

Students in Aurora School District, CO, discovered a broken ice handler after noticing their eGauge data did not decrease at night. This discovery saved their district $10,000 per year.  
We have worked with over 100 energy professionals who have served as mentors to our schools, showing students how to audit a building, pointing out ways to save energy, and introducing students to careers in energy fields.  Some students have connected with mentors and have said that the program opened up doors to them for career choices in alternative energy that they never even knew about. 
Also, the program has converted school facilities staff who didn't realize the power that students had to change behaviors and save energy for their school buildings. Some facilities staff started as staunch skeptics saying there wasn't much "savings" to be had, but after the competition, became some of the biggest advocates of the program. Because schools save money, the program is successful even in more conservative areas where discussing climate change can be a taboo topic. Hal Corin, Energy Manager, Jeffco Public Schools states, "Engaging students in energy savings and arming them with real-time monitoring creates ample opportunity for leadership project-based learning and immense energy savings!" 
Check out this video for more testimonials. 
Some schools have changed their energy policies.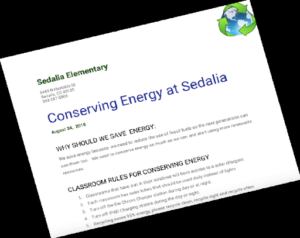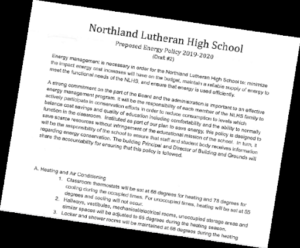 Recommendation For Replication Or Adaptation
A team effort, which includes a teacher sponsor, facilities staff, administration and as many additional students and teachers as possible is suggested for ultimate success.
While considering participation, it is important to enlist the support of one's Energy Manager, Sustainability Coordinator, or someone at the administration level.
Renew Our Schools is poised for growth across the United States. Our team is happy to talk with district Energy Managers, Principals, Teachers, and other key stakeholders about bringing our program to your school. 
There is a cost to participate: for that participation fee, a school receives:
Access to the portal 

Energy expertise to better understand your building

A tool kit full of energy-saving tools such as light meters, kill-o-watts, and infrared thermometers

Curriculum designed specifically for the program

An eGauge energy meter

A chance to win prizes!
 Assistance is available for schools who are not able to pay the registration fee.
As a non-profit, Renew Our Schools also encourages interested foundations, state energy offices, and other organizations working in K-12 sustainability and conservation efforts to reach out.
Contact information
https://resourcecentral.org/renew-our-schools
Kathy Croasdale, Resource Central – Renew Our Schools Program Operations
kcroasdale@resourcecentral.org
303-999-3820 Ext 223
Kate Larson, Resource Central- Director of Water and Energy Programs
klarson@resourcecentral.org
303-999-3820 Ext 214