Play On Philly (POP) provides underserved children in Philadelphia a transformative music education experience that develops and inspires the behaviors and skills needed for a successful life. Throughout the school  year, students receive tuition-free daily in-school and after-school music education. POP also provides students a free to low cost six-week summer music camp and over 25 performance opportunities throughout the year.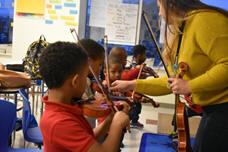 Vision
When Curtis Institute of Music graduate Stanford Thompson founded Play On Philly in 2011, he did so with two guiding principles:
Regardless of economic circumstance, every student deserves access to music education

Music education is a powerful tool to change lives and uplift communities
To that end, POP fills that gap by removing all barriers to access by providing instruction, instruments, supplies, high-quality teachers and daily mentorship at no to minimal cost for families. Children do not audition to join, and those with behavioral issues are welcomed. Students from grades K-12 are offered intensive music education not only for music's intrinsic value, but as a means to build important life skills. Life skills include communication and interpersonal skills, problem solving, creative thinking, self-awareness, and resilience. 
History
Play On Philly will celebrate a decade of providing high-quality music education at no cost to underserved students in the 2020-2021 year. Originally modeled after Venezuela's hugely successful El Sistema program, POP approaches equal access to music as a social and academic preparedness tool. Since its 1975 founding, over one million youth have participated in Venezuela's free orchestra program. Deeply inspired by El Sistema, Thompson brought this unique and proven approach to at-risk youth in Philadelphia to encourage them to become successful students, citizens, and musicians. 
Our first Music Center site was established in 2011 at St. Francis de Sales School in West Philadelphia with an inaugural class of 110 youth ages six to thirteen. The following year, POP established its second Music Center at Freire Charter Middle School. As of 2020, we have expanded our various K-12 programs to serve 350 students: introducing in-school music instruction through a preparatory program, adding a third Music Center location, and launching the POP Symphony Orchestra and POP Emerging Artist Collective. Within our core programming, students are immersed in intensive after-school music instruction 5 days per week throughout the school year as well as a 6-week summer program for a total of up to 580 hours of musical instruction annually.
Activities
Music Centers
POP partners with Philadelphia schools to create on-site Music Centers that provide an educational and social preparedness program whereby students develop high-level musical knowledge and performance skills. Students in our Music Center programming receive 2 hours of POP's rigorous, daily after-school music instruction throughout the school year, for a total of 340 hours of music education for each student. POP Music Centers are currently located at St. Francis de Sales School, Freire Charter Middle School, and Independence Charter School West.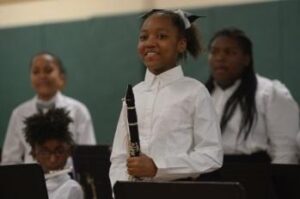 POP Symphony Orchestra
As POP students reach 7th grade and advance their academic and musical study, they become eligible to join the POP Symphony Orchestra. Students in grades 7-12 who join POPSO master challenging repertoire and receive opportunities to compete and perform in renowned venues throughout Philadelphia and nationally.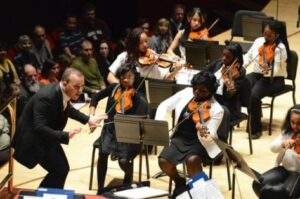 POP Preparatory
In our preparatory program, all 3rd and 4th grade students at St. Francis de Sales receive instrumental and ensemble instruction during one school day each week. This introduces non-POP students to playing an instrument and the accompanying benefits of foundational musicianship and development of cognitive abilities, including self-control and critical thinking. It also provides more in-depth music instruction for 3rd and 4th grade POP participants, allowing Teaching Artists to work on more complex concepts after-school.
POP Emerging Artist Collective
The POP Emerging Artist Collective (PEAC) further enhances our programming for students in grades 4 – 12 who have expressed greater interest in pursuing music in their educational and occupational futures. Students in PEAC have shown innate talent in addition to their level of commitment and receive private lessons and audition preparation tuition-free, in addition to their daily instruction. 
POP Summer Music Camp
To encourage year-round practice and help students prevent "summer slide", POP also offers the POP Summer Music Camp, which is open to both POP and non-POP rising 1st through 12th graders. In 2019, we expanded the camp to a full day to create more accessibility for working parents by eliminating any barriers created by transportation or additional care planning required by a half-day program. In addition to music instruction, students participate in cross-disciplinary activities such as tutoring, athletics, and exploration of other art forms. 
Professional Development
POP is committed to expanding and improving the opportunities which we offer to our Teaching Artists in order to enhance the experience of our students. In the 2018-2019 school year, we held our first week-long orientation and continue to provide development opportunities that focus on classroom management, trauma-informed practices, and common teaching techniques, among others.
Other Activities
POP brings in renowned Guest Artists to perform and train with our students, bringing depth, diversity, and richness to our program. Guest artists have included the Ritz Chamber Players, cellist Sheku Kanneh-Mason, Mezzo-Soprano Chrystal E. Williams, Imani Winds, Wynton Marsalis, and the Sphinx Virtuosi. World-class conductors like and Yannick Nézet-Séguin and Sir Simon Rattle have led POP Symphony Orchestra in performances. POP students participate in more than 25 performances annually that are free and open to the community, in addition to the unique experiences provided by our Guest Artist relationships. In the 2018 -2019 school year, POP also launched an instrument-family festival that focuses on intensive collaborative study with a rare opportunity to learn from and perform with a featured guest artist.
Audience/s served
Over 1/5 of children in Philadelphia live in poverty, and the experience of living with poverty means more than limited access to material resources: a child must demonstrate great resilience to overcome the obstacles for success. The most powerful engine of resilience – equal access to quality education – is in serious jeopardy. However, the children who would benefit most from high-quality educational opportunities are the least likely to receive them. It is these underserved students across Philadelphia that we are dedicated to empowering by providing a transformative music education experience. As a result, POP has enabled over 40 students to earn positions with local advanced youth orchestras and national programs. When they perform on stage, they are beacons of inclusion and possibility to children and adults alike. 
With 99% of our student body identifying as musicians of color, POP works to create an arts community of performers and audience members that reflect the diversity of our city. We strive to engage the entire community via partnerships, community events, and a season of 25 performances in venues across Philadelphia and beyond. Our youth have performed at the Kimmel Center at Verizon Hall, World Cafe Live, Swarthmore College, Star Harbor Center, Project HOME, with the SEPTA Music & Moves program, with the Mural Arts program, and at the Leonard Bernstein tribute concert at the National Museum of American Jewish History. Our students also performed at the SHIFT Symposium in Washington DC in Spring 2017 and at a small group opening of the 2017 TED Conference. 
Successful impact
Students
Since 2012, Play On Philly has worked with the arts consulting group WolfBrown to quantifiably measure our program's efficiency. The study is guided by a theory of change: access to high-quality music education mitigates the effects of risk on academic achievement and prosocial behavior by fostering participants' executive functions. "Executive functions" are an essential set of cognitive skills including: inhibition, flexibility, emotional control, self-management, and working memory, that have been shown to be vital for academic and social success. The evaluation results have shown quantifiable success:
POP students earn 10 points higher on standardized math and on English Language Arts tests.

Students grade higher in effort and study skills.

Students who were new to POP exhibited larger gains in their abilities to remember and problem solve than their  peers.

100% of seniors in POP have graduated high school.

POP students exhibit significantly higher scores on standardized tests in reading. 
As a result of our intensive musical instruction, POP students have attended national summer festivals including YOLA National Festival in Los Angeles and Sewanee Summer Music Festival in Tennessee, and have joined elite youth orchestras such as Philadelphia Sinfonia. POP continues to have a 100% graduation rate in our program. Our graduating seniors in the 2018-2019 school year went on to study music education at Temple University, electrical engineering at University of Pennsylvania, and music technology at Penn State University, to name a few.
The impact of Play On Philly is best expressed through our students. Alumna Gabrielle shared, 
"Learning to play an instrument at POP strengthened my skills of diligence and perseverance…. If there's one lesson that POP has taught me, it is: the value of the individual; that everyone plays a part in something greater than themselves. Each and every one of us has an instrumental role in creating a symphony of sound. Whether you're playing violin one or horn four, your part is important, or it wouldn't have been written. Sometimes it seems like your part doesn't matter, that it can't be heard over others. But then remember that you're still making a sound, that you're one of many creating something beautiful, something bigger than the notes on your page. I think that is an important lesson for all of us to hold onto as we go through life, whether it be in school or on the job. It's one that I'm definitely going to keep in my heart."
Teachers:
POP strives to equip Teaching Artists with the necessary skills for success in our students. Our Teaching Artists come to POP with a variety of educational backgrounds from teaching novices, to those trained at conservatories, to highly skilled pedagogues with a wealth of knowledge. In order to close the gap between their professional training as artists and musicians and the needs of the arts education classroom, POP has consistently provided professional development to our Teaching Artists. Teaching Artists engage in professional development centered around trauma-informed practice, instrument-specific pedagogy and classroom management training. We know that when we invest in professional development for them, we are improving the education of not just POP's students, but all the children that they will teach.
Program developers:
POP Executive Director, Stanford Thompson, regularly gives keynotes about Play On Philly and the work that we do with music educators and communities across the United States. 
Stanford was named a 2017 TED Fellow and spoke about Play On Philly's impact and the benefits of music education at the 2017 TED Conference in Vancouver, Canada to an international audience. Six POP students were also invited to perform to kick off the performance.  In addition, we have participated in the National El Sistema study through Wolf Brown and have shared our findings via Wolf Brown in a number of publications where the work has been cited many times. We regularly have guests from Universities and other El Sistema-inspired organizations do site visits to learn from our program structure and methods. 
Parents:
POP offers an intensive daily music program and loans orchestral instruments that many parents are not able to afford for their children. One of our POP alumna parents succinctly shares the impact of our program on parents in our community. Her daughter has gone on to major in psychology with a minor in music at Cairn University: 
 "We come from households with low incomes, making it hard to even be able to afford to pay for an instrument and lessons, so with the support of all donors she can be part of a great program. It makes me feel good as a parent that she has these opportunities. Her confidence level is high. She continually makes honors. She's very responsible. I'm proud of how far my daughter has come." 
Broader community:
Our students influence and build pride in their community when they perform for their families and the public at large. Access to classical music is sparse within the communities that our students live in; we make it accessible by bringing classical music into their communities and offer over 25 concerts free to the community.  POP students also give back to the community. POP partners with nonprofits across Philadelphia to perform community engagement performances. Past engagements and partnerships include Shakespeare in Clark Park, classroom performances at KenCrest North and Infant Friendship Center, and pop-up performances at SEPTA stations for the SEPTA Music & Moves program. Through our community engagement efforts, our students become exemplary citizens in their communities and become role models for their peers and the community.
Recommendations for replication and/or adaptation
Play On Philly's theory of change predicates that, through intensive high-quality music instruction, students can learn the socio-emotional and life skills necessary for their future. POP encourages excellence in our young musicians by teaching and reinforcing sound technique and musicality on their instruments. Some ways that we achieve our student goals are:
Frequent Performance Opportunities: 

No matter how many notes a young musician knows, every student has an obligation to perform for one's community. Here are sample photos of musicians performing in their first several weeks of learning and some musicians who have been playing for several years.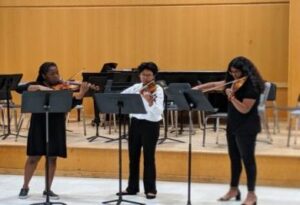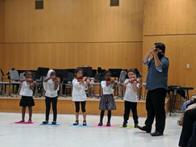 Everyone is a Teacher:

Each musician has an obligation to teach something to the person next to them if he/she knows more. It is important that all students see themselves as teachers. In these two videos, more experienced musicians lend their knowledge to less experienced musicians and teach them.

Materials: Learning from Each Other video, Giselle is a teacher video
Teaching Artist Training:

Teaching Artists (TAs) work with the POP musicians each day to ensure students are making progress. Many TAs are classically trained musicians who have little to no experience with classroom teaching. Each year, TAs gather together for 25 hours of Professional Development at the beginning of the year to learn new skills and refresh old ones. Additionally, throughout the year, TAs attend pedagogical sessions with master teachers on their instruments. We have also brought in experts around culturally competent teaching and trauma-informed approach. 
Materials: Teaching Artist Kick-Off Week Schedule,
https://playonphilly.org/wp-content/uploads/2020/02/,     
Teaching-Artist-Kick-Off-Week-Schedule.pdf
Contact info
Website: https://playonphilly.org/
Contact person: Beth Young
Phone: (215) 398-7883
Email: Development@playonphilly.org