Kids4Peace Jerusalem is a grassroots interfaith youth movement dedicated to ending conflict and inspiring hopein Jerusalem and other divided societies around the world.
It brings Jewish, Christian, and Muslim youth of Jerusalem and their families together,
to create a community of leaders acting for lasting change.

Vision
Kids4Peace promotes a vision of justice, unity, and nonviolence that inspires hope that peace is possible.  We bring our vision to life by empowering youth through transformative encounters across difference, mentored practice in peace leadership skills, and a resilient community of support.  Kids4Peace guides youth along a journey from their first experience with "the other" toward action side-by-side for social change.  We also create structured opportunities for youth to exercise leadership within the Kids4Peace movement and the larger peace constituency, so that our work is not only for youth but also by youth. 
In Jerusalem, interfaith education and peace building programs generally reach a small number of people, which fail to achieve the critical mass needed for social change. However, over the last few years, Kids4Peace has begun to evolve from a program of personal growth into a movement for social change.  Today, our community is taking bold steps to address the critical issues that divide Jerusalem. For the next three years, we will focus on strategic infrastructure for growth and scalable initiatives that will increase the impact of our current intensive programs, while adding a new layer of activities designed to create transformation on a significantly larger scale.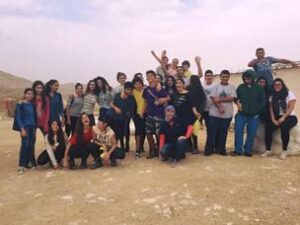 History
Founded in Jerusalem in 2002, Kids4Peace's mission is to embody a culture of peace and empower a movement for change. As a grassroots interfaith youth movement, Kids4Peace believes in the power of young people to shape the direction of society.  Youth bring fresh perspectives that can shift cultural norms, transform institutions, and solve entrenched problems.  Kids4Peace enables youth to exercise real-world leadership and fosters habits of civic engagement. 
Kids4Peace has a successful 15-year track record of long-term interfaith education, leadership development and community action programs with youth.  Current participants include more than 400 youth (age 12-18) from over 40 schools in East & West Jerusalem, and neighboring West Bank cities. Families represent a diversity of political viewpoints and socioeconomic situations.  Kids4Peace strategically engages economically disadvantaged, religious, and traditional families who are often absent from other peace programs. Teams of Palestinian and Israeli adult advisors lead the programs, conducted in Arabic, Hebrew and English.
In 2022, Kids4Peace  became a program of Seeds of Peace.  The mission and activities remain the same – empowering youth to create more peaceful communities.  
Activities
Pathways to Peace is for 6th and 7th grade youth, funded by USAID. The program is designed to focus on the neighborhood fabric of Jerusalem, and to create understanding and bonds between youth, their families, and communities. There are two youth meetings each month, three large community events (a movie night, sports day, and Iftar celebration), and a local summer camp in the Galilee.
Roots (8th grade) & Leadership (9th grade): In 8th grade, youth explore their own identities while examining how they fit into those of their wider community's. In 9th grade, they meet experienced religious, diplomatic and civil leaders, participate in dialogue and leadership skills, participate in public speaking, learn about/engage in public advocacy.  8th and 9th graders travel to the US for global summer camps: 8th grade in the Chicago area and 9th grade in Washington, DC for the Global Institute (www.k4p.org/global).
Youth Action Program (10th-12th grade): YAP, also funded by USAID, puts into practice what youth learned throughout the years: to go out, meet, influence, act, change, and give back to the community. Youth participate as counselors for younger youth, in the K4P Speakers Bureau, and as leaders in community service projects. Certain programs encourage older K4P alumni to join and participate as well.
Parents4Peace (Participant's parents): We invites parents to share their family stories, unique identities and religious traditions, as well as share and reflect on the challenges and dilemmas of raising their children in the conflictual reality of Jerusalem. Activities include co-facilitated dialogue sessions, guest lectures with roundtable discussions, community-building events, home visits, and volunteering opportunities.
Interfaith Community Action: All youth, parents and alumni are encouraged to participate in coordinated Neighborhood tours, home-hospitality events, community service activities, charity projects and public interfaith events.
PeaceWork: In 2016, Kids4Peace opened a shared working space for organizations, their employees and beneficiaries who are of positive influence on the Israeli and Palestinian community in Jerusalem. The PeaceWork Hub is a coworking, community and events space, with 5 conference rooms, a shared workspace, kosher & halal kitchen. PeaceWork is an incubator for new ideas and a place of tolerance, nonviolence and interfaith cooperation.  It is a diverse, passionate pro-peace community from all parts of Jerusalem tackling social challenges and creating momentum for a hopeful approach to the future.
Jerusalem Experience: In 2017, Kids4Peace launched Jerusalem Experience welcomes visiting tourists from around the globe to live the Kids4Peace community experience during their stay in Jerusalem. These visitors meet with youth, families, and educators, participate in community programs, walk through West and East Jerusalem neighborhoods, and join the Kids4Peace family. These encounters allow participants to briefly become part of our life in the city. They get to meet real people in the places where we live and work as they hear our stories, join our conversations and hopefully become partners in overcoming our challenges and realizing our dreams for a diverse multifaith Jerusalem Community.
Hadassah Podcast: "Kid Power"
Talia dances, loves drawing, and traces her Muslim ancestry back to Jerusalem's Old City. Shali is the wise-cracking son of an Israeli rapper. The teens met by joining Israel's only youth movement for peace. Listen as they teach us what it means to be Kids4Peace in 2019.
https://www.hadassah.org/multi-media/podcasts/branch-episodes/episode-13-kid-power.html
Book: Raising Generation Peace
Featuring in-depth interview and powerful photos of 16 Kids4Peace leaders from Jerusalem and across the USA. More info at https://k4p.org/book/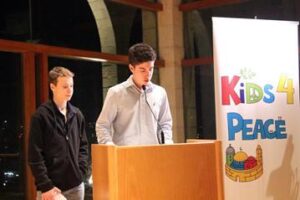 Audience/s served
Kids4Peace strategically recruits families and youth who have not yet met the other. Participants come from all parts of Jerusalem and neighboring communities, with an aim toward half male/half female, 40% Muslim, 40% Christian, and 40% Jewish. They includetraditional, religious, and politically conservative and socioeconomically disadvantaged families from Israeli, Palestinian, Jordanian, Armenian, and Druze backgrounds. Because Kids4Peace provides opportunities for English language learning and travel abroad, families see the program as an opportunity for social and economic empowerment.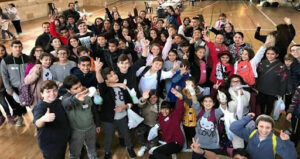 Successful impact
Kids4Peace recognizes that the Israeli-Palestinian conflict reflects a complex relationship between two peoples fueled by mistrust, fear, and continuous cycles of violence. Success is measured not simply by changed attitudes, but by public behaviors oriented toward visible peace in Jerusalem. Our focus on youth reflects their importance as public actors, whose behavior can influence public opinion toward or against support for peace. Our interfaith focus acknowledges that the violence in Jerusalem has significant religious dimensions, and that support of religious actors will be essential to a durable peace agreement.
Quantitative Measurements:
Youth participants, disaggregated by religion, nationality and neighborhood to guage percentages of youth from unreached communities connected with peers in a peace community and engaged in civic activism

Parents with new cross-group connections and increased readiness to personally support sociopolitical peace initiatives
Percentage of participants who agree that because of Kids4Peace they have better understanding of the other and the other's perspective

Percentage of participants who feel more positive toward the other

Percentage of participants who are willing to work with the other on common issues

Members of the Kids4Peace community help implement activities that involve other residents in interfaith celebrations, home hospitality and community service projects.
Over the last few years, Kids4Peace has undergone several evaluations. The most recent of which, the result of a 100,000$ USAID grant over an 18 month period found:
100% of youth felt the project activities help them take action for peace

90% of youth talk about Kids4Peace with friends at school at least monthly (up from 70% at baseline)

80% of youth say they stand up to peers who say bad things about other side (up from 55% at baseline)

Project participants spoke to an average of 100 people about their involvement in Kids4Peace this year
"Free" information such as "how to get started" guide, training guides, videos
https://www.youtube.com/watch?v=1UcE_E1etoQ
https://www.youtube.com/watch?v=MMOiZcqj8D8
https://www.youtube.com/watch?v=5Ku9hNTjHnI
https://www.youtube.com/watch?v=bQiLiIDyLj0
https://www.youtube.com/watch?v=g9G9u-s9EK0
Recommendations for replication and/or adaptation   (Kids4Peace International Model)

Start slowly to establish interfaith trust and relationships before attempting an entire program.  If there are not interfaith relationships already formed among interested Jewish, Christian, and Muslim faith communities, start small with an evening or afternoon event for adults or youth with an emphasis on getting to know each other, having fun, and sharing a few things about one another's religions.

Build a core group by offering an initial intensive, week-long, overnight interfaith program at the middle school level that continues during the school year.

Leverage partnerships with like-minded organizations to offer robust sequence of summer programs that build on and enhance school year programs.

Offer programs that focus on community-building and skill-building during middle school.

Offer programs that focus on using and refining leadership skills during high school, including opportunities for peer leadership, leading younger participants, and outreach with peers in the community.

Leverage connections with like-minded community organizations and faith communities to expand impact.

Host community-wide and public events that are led by the youth and showcase their experiences and skills.

While a year-round, six year program is powerful, there are a variety of parts of this program that could be adapted or implemented initially such as: a middle school summer camp program with a limited number of school year activities ; a high school program offered during a school vacation week; a connection of religious schools via congregational partnerships; or an interfaith club at a high school. 
Contact info
www.k4p.org or www.k4pjerusalem.org ,
jerusalem@k4p.org ,
facebook.com/k4pjerusalem ,
@kids4peace ,
vimeo.com/kids4peace,
k4pblog.org