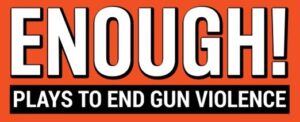 ENOUGH! Plays to End Gun Violence, a nationwide program, has
teens confronting gun violence by creating ten minute plays, six of
which are selected to be performed as staged readings in numerous community settings on the same evening.
Vision
ENOUGH! Plays to End Gun Violence creates space for teens to confront gun violence by creating new works of theatre that will spark critical conversations and inspire meaningful action in communities across the country. Our mission is to promote playwriting as a tool for self-expression and social change, harnessing this generation's spirit of activism and providing a platform for America's playwrights of tomorrow to discover and develop their voices today.

Pop-Up Performance on Pennsylvania Avenue outside White House, December 2021
History
ENOUGH! (then called #ENOUGH) was launched in 2019 by director and producer Michael Cotey in the aftermath of two mass shootings – El Paso, TX and Dayton, OH – that happened within 24 hours of each other. Inspired by the youth movement that came out of the 2018 Parkland shooting, ENOUGH! was created as a vehicle for the theater field to address growing concerns around gun violence, whilst centering youth voices and experiences in the process.
In spite of the onset of the COVID-19 pandemic happening in the middle of ENOUGH!'s first call for submissions in 2020, the initiative received 185 submissions from across the county. Seven plays were chosen that first year by a committee made up of Tony and Academy Award-winning playwrights, including Tarell Alvin McCraney, David Henry Hwang, Lauren Gunderson, Robert Schenkkan, and Karen Zacarías. These plays were subsequently performed in ENOUGH!'s first Nationwide Reading on December 14, 2020 – the same date as the 2012 Sandy Hook shooting. In addition to digital readings taking place in dozens of communities nationwide, the plays appeared on the digital platform Broadway on Demand in a groundbreaking collaboration among regional theaters including Alliance Theatre, Arizona Theatre Company, Berkeley Rep, Goodman Theatre, Orlando Rep, and South Coast Repertory.
In the fall of 2021, ENOUGH! launched its second call for submissions, with its stipends for the winning playwrights sponsored by Change the Ref, an activism organization created by the parents of Parkland shooting victim Joaquin Oliver. ENOUGH! received 149 plays, eight of which were chosen that year to be featured in the nationwide reading. In addition to the majority of the readings now being in person rather than online, the 2022 Nationwide Reading, which was held on April 20th, the remembrance of the Columbine shooting, was also anchored by a flagship reading at Lincoln Center in NYC, performed by Roundabout Theatre's Youth Ensemble. ENOUGH! 2022 initiative was recognized by international news outlets PBS News Hour, NPR, and BBC, and the reading at the Goodman Theatre in Chicago graced the front page of the Chicago Tribune. PBS News Hour's feature on ENOUGH! can be viewed here: https://www.enoughplays.com/pbs
In 2023, ENOUGH! kicked off its third cycle with a call for submissions that yielded more plays than ever before: 244, nearly 100 more than the previous year. Six plays have been selected to comprise the content for the Nationwide Reading on November 6, 2023 – exactly one year out from the 2024 Presidential election. This year's flagship reading will be held at the Kennedy Center in Washington, DC, and will be made possible through a collaboration among multiple DC-based theaters.
Activities
ENOUGH! has two main programs: Call for Submissions and Nationwide Reading.
Call for Submissions: ENOUGH! calls on TEENS (ages 13-19) from across the country to write and submit 10-minute plays that confront the issue of gun violence.
The selection process: A committee composed of award-winning playwrights selects 6 submissions as the year's plays. Select playwrights are published in a collected anthology that can be licensed for future productions and their plays are produced as part of our Nationwide Reading. Writers are also paid for their work ($500 stipend) and receive memberships and craft training from The Dramatists Guild, a copy of Final Draft script writing software, and feedback from professional playwrights. https://www.enoughplays.com/writing
Nationwide Reading: The selected six plays have staged readings during an evening of theater. ENOUGH! invites theatres, schools, colleges, and other organizations to produce staged readings of all that year's plays for their community. Performed simultaneously across the country on the same night, these readings will be part of an evening of reflection, dialogue, and action. From New York to Portland to Chicago to Orlando, the goal of the cross country effort is to spark critical conversation about gun violence and inspire meaningful action.  Participants in the Nationwide Reading receive the scripts of the plays, toolkits for producing them, and social media/marketing collateral, free of charge. https://www.enoughplays.com/reading.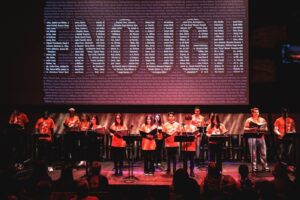 Roundabout Youth Ensemble, Lincoln Center, New York, 2022
Audience/s served & Successful Impact
Giving Voice to Teen Writers (13-19 years old) from nearly 40 states have submitted nearly 600 plays confronting gun violence through our 2020, 2021, and 2023 calls for submissions. Every single writer receives feedback on their work from at least three professional theater artists because their voice matters.

"I lost my younger brother TJ to gun violence at the beginning of 2021. Once I experienced that loss, I knew that I wanted to do something to bring awareness to gun violence. Later that year I learned of ENOUGH! and my play, Salted Lemonade, was selected as one of the eight written by talented young playwrights from across America. Not only did writing for ENOUGH! give me a means of coping and provide me with a safe space to grieve, the opportunity gave me a fresh way to advocate against gun violence while bonding with talented artists and growing as an artist.
ENOUGH! is far more than a playwriting competition. ENOUGH! is a leap into the worlds of advocacy and storytelling. ENOUGH! brings a multitude of opportunities to teens across America with talent and new stories to tell, like me…I know firsthand that ENOUGH! changes lives in more ways than on." – Taylor Lafayette, teen playwright
Creating Space: More than 100 organizations have staged readings of our plays in 2020 and 2022.  They involved nearly 2,000 artists and reached more than 10,000 people, sparking critical conversations about gun violence in communities nationwide.
Impacting Communities: The work of our playwrights has had a profound impact on the communities involved in ENOUGH! Read testimonials from some of them below.
"We love this project and the opportunities it provides to students." – The Rose Theater (Nebraska)
"The response to the evening was extremely positive. People left inspired, angry, moved, and proud of this message." – Orlando Rep (Florida)
"ENOUGH! Is one of the most important days of our year. It allows us to fulfill our mission of giving voice to those who feel unheard or marginalized." – South Bend Civic Theatre (Indiana)
"It's strengthened our relationship with the city's Office of Violence Prevention and with local youth theatre companies." – Third Rail Repertory Theatre (Oregon)
Nationwide:  Watch ENOUGH! on PBS Newshour, May 16, 2022
Excerpts:
In 2021, more than 1,500 children and teenagers in the United States were killed by gunfire. Activists across the country are working to shed light on that issue through a series of plays written and performed by young adults, many of whom have had direct experience with gun violence. Jeffrey Brown has the story for our arts and culture series, "CANVAS."
Judy Woodruff:   This weekend's mass shooting in Buffalo once again highlighted the devastating impact of gun violence in this country. It is a problem all too familiar to many Americans, and specifically young people. In 2020, guns became the leading cause of death for children, surpassing fatalities from car accidents. Activists across the country are working to shed light on this issue through a series of plays written and performed by young adults, many of whom have had direct experience with gun violence.
Jeffrey Brown has the story for our arts and culture series, Canvas.
Jeffrey Brown:  At New York City's Lincoln Center, the reading of a play about a woman who lost her husband to gun violence and now fears the worst for her son. It was written by a 18-year-old Taylor Lafayette.
Taylor Lafayette, Playwright:  I really hope that my play, amongst others that were written, brings that change forth that this cannot keep happening?
     Person:You got three seconds. Then I'm taking it out your pockets.
     Person:I ain't got nothing.
     Person:Three!
      Person:All right, chill. Look, the money…
Jeffrey Brown:In Tempe, Arizona, a performance about a boy who witnesses his older                    brother's murder and weighs whether to take revenge. One of the student actors, Byron                          Roberson Jr.
Byron Roberson Jr., Actor: It's a part of life that you never want to face, but it's also one that you can't act as if it's not there. Ignorance isn't bliss when you're talking about this                subject. Information, knowledge, that's the power.
Discussion with Michael Cotey, Director/Producer:
Jeffrey Brown: #Enough is the brainchild of Michael Cotey, a director and producer based in Chicago. In 2018, he was in a professional theater rehearsal, when the Parkland, Florida, shooting left 17 dead.
Michael Cotey: It just took over the entire vibe of the rehearsal. And then my memory of it is that, 10 minutes later, we got back to work working on plays. And I — that really left an unsettling feeling for me.
Jeffrey Brown:What was the feeling?
Michael Cotey: Frustrated that these things kept happening or feel like they keep happening. And, like, what am I doing in the theater, or, like, more specifically, like, what could we be doing with the theater to address this directly?
Jeffrey Brown: His idea, let young people be the storytellers.
Michael Cotey:They're able to put a story behind these awful, enormous numbers that should just drive us insane to do something about it, but somehow don't. And I think that's what theater provides, this cathartic sense of where some people can go to express their grief and their anger and their trauma, but do that within their community.
Jeffrey Brown:For her part, Taylor Lafayette traveled to New York from her home in Benoit, Mississippi. She has been writing since childhood, she told us, but this play was her most personal, a way to cope after losing her younger brother to gun violence.
Taylor Lafayette:He was 16, so very young, not even getting a chance to graduate high school, see senior year. And the fact that I do, I just — I like to use that as motivation to keep going.
Jeffrey Brown:Why does art become the way to help you do that?
Taylor Lafayette:#Enough definitely drove me to see that I can use my voice as something more than just a way to release my own emotions. I can use it to cause change. I don't want to keep my writing to myself. I want it to be in the world, because I feel that's where it needs to be.
Recommendations for Replication and/or Adaptation
ENOUGH! can easily be used as a model for introducing teen writers to playwriting and playwriting fundamentals while engaging on important social justice issues. While ENOUGH!'s materials are geared toward the issue of gun violence, that issue can easily be swapped out for any other issue students may be interested in exploring.
ENOUGH! makes all of its resources available on its website: https://www.enoughplays.com/resources
Resources include:
Writer's Toolkit – This 25+ page resource is for both first-time playwrights and experienced young writers. It includes a road map for writing a short play, writing prompts to help spark the creative process and pro tips from professional playwrights.
Educator's Toolkit – This companion toolkit for educators included additional resources and lesson plans geared towards introducing ENOUGH! and the Writer's Toolkit to students.
Writing Pro Tip Videos – Featuring advice from some of the award-winning playwrights who have worked with ENOUGH! Let their passions and inspirations fuel your work!
Additionally, previous ENOUGH! plays from 2020 and 2022 are available for purchase and licensing for performance through Playscripts. https://www.enoughplays.com/plays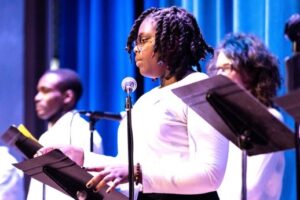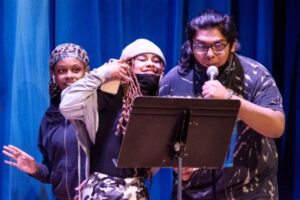 McKinney Secondary School of the Arts, Brooklyn, NY 2022
Contact
www.enoughplays.com
Michael Cotey, Artistic Producer
414.861.4692
mcotey@enoughplays.com